Student Life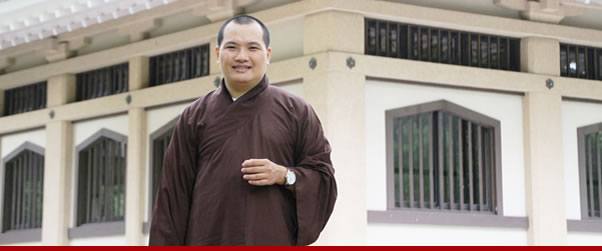 My Reason for Studying in Japan
By Tran Quoc Phuong (Vietnam)
3rd-year student, Doctoral Program, Graduate School of Letters
I have a dream or a long-term development plan in my life. The first part of the dream is to effectively strengthen my ability towards learning and education.
Studying in Japan is a great dream of many Vietnamese students like me, a Vietnamese Buddhist monk who comes from Hue, the ancient-capital city located in the central part of Vietnam. I have learned that the Japan education system has made much progress in advancing the methodology of teaching and research.
After graduating from university in 2009, I officially entered the undergraduate program at Aichi Gakuin University in Japan with the aim of obtaining a doctorate and making my dream come true. My major is Buddhist and Religious Studies.
My ambition is to learn, to obtain knowledge and skills in teaching and research methodology and to discover the special cultural features of Japan. In my master plan, after I become a professor who is professionally trained and educated from Japan, I will go back to my hometown, and my responsibility will be to convey the quintessence of my research to students in general and to Buddhist monks in particular in Vietnam and other Asian countries. It is my aspiration to contribute to the improvement of the educational careers of Vietnamese Buddhists as well as to the development of many academic fields.
Furthermore, cultural exchange is one of my most important concerns in the future. A plan on how to develop a cultural exchange program between Vietnamese and Japanese Buddhism, with a wide expansion into other Asian countries, has been put on the agenda of my work after I graduate. Furthermore, I have found that there are a lot of unexplored fields about Vietnamese Buddhism that need to be studied and introduced to other Buddhist countries.